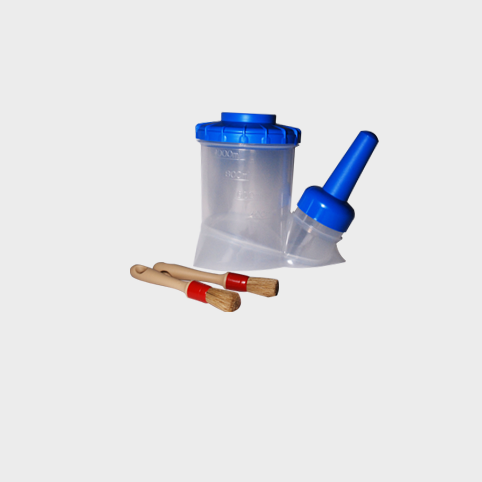 Frustrated with not being able to clean my old glue pot out properly. I started the search for the perfect glue pot. I wanted something that had all of these qualities;
very easy to fill.
very easy to clean.
ready for use at all times. (I can leave the brush in)
air tight
After several years the search is over, I finally found it.
This container is sturdily manufactured from a tough moulded plastic. It comes with two wooden handled brushes which you can leave in the container when you close it. The container is see-through and has measurements on it so it makes it simple to fill and I like being able to see what's happening in there.
This glue pot is air tight so you need to leave the brush cap on tight while you fill your pot up with your glue or paint. Then screw the lid on nice and tight before you remove the brush cap. This is important because if you leave the cap off while you are filling the gravity feed will just keep your glue flowing right on through! We even made a little video for you.
I have used mine for a couple of weeks now and I am really happy with it. I do have to wash my brush out regularly but with two brushes I just swap them over. I am so pleased to be able to clean out the pot properly and get rid of any build up of glue, I couldn't be happier. Get yours here.
Happy Binding!