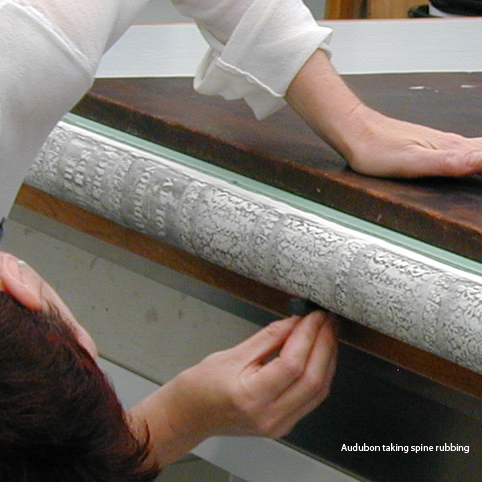 This week In Focus we talk to Philippa Räder, the head of the Queen's bindery in Windsor Castle. You can also read Philippa's bio here. This year in conjunction with the Bind19 Australian BookbindingConference Philippa will be teaching in Sydney and in Canberra as well as presenting at the conference. I wouldn't miss this one at the conference, if you haven't booked your tickets get moving! If you are interested in her classes the spaces are very limited and filling up fast so be quick! Please enjoy our interview.
When did you start bookbinding?
I owe my career to a rare book dealer in Los Angeles, California, where I was working in 1991-2 following degrees in English Literature at Cambridge University and employment in publishing in London. They insisted that I needed to gain some understanding of the physical nature of bindings and enrolled me in a bookbinding evening class. This opened my eyes to the world of bookbinding, book arts, letterpress printing and book conservation-restoration, and inspired me to pursue working in the field.
What training have you had?
My initial training consisted of four years at-the-bench instruction during 1992-6 in the book and paper conservation lab of the Getty Research Institute (GRI), supplemented by their funding for external courses and workshops such as undergraduate classes in Chemistry: essentially I was fortunate to be in the right place at the right time to create my own apprenticeship. I established my own studio while still employed at GRI and worked privately full-time for four years thereafter, then took on additional part-time positions at the Huntington Library, where I began to concentrate my practice on period leather bindings. On returning to the UK in 2001, I worked at The National Archives in Kew for 18 months before moving to join the staff of the Royal Collection in 2003. Initially working there exclusively on bound archival material, my scope of responsibility gradually widened to encompass books, manuscripts and archives throughout the collection.
I am a Professional Associate of the American Institute for Conservation and an Accredited Conservator-Restorer through the Institution of Conservation.
Training never ends: no-one ever arrives at being a complete expert. We are continually presented with opportunities to learn and improve throughout our lives.
Where are you working now?
I am Head of the Royal Bindery, based in Windsor Castle, leading on the preservation, conservation and restoration of books, manuscripts and archives for both the Royal Collection and wider Royal Household. While dealing mainly with material housed in Windsor, I care for collections across all royal residencies and satellite libraries throughout the UK. I am also responsible for the production of new state and other official gift presentation bindings and boxes; the preparation, installation and attendance of temporary displays during royal and government functions; fulfilment of private bookbinding requests from the Royal Family.
In addition, I direct the programme of The Queen's Bindery Apprenticeship Scheme. Launched in 2016, with charitable funding for seven years to pilot a new five-year apprenticeship in hand bookbinding based in the Royal Bindery, its aim is to play a key role in preserving and transmitting traditional craft skills to future generations as well as supplementing the limited practical training in these techniques afforded by conservation MA programmes.
What is the best & worst job you have worked on?
I believe my terms and conditions of employment prevent me from answering this!!
What aspect of bookbinding do you think you do best?
Conservation-restoration.
Who is or was the bookbinder you admire most?
Aside from my husband, it has to be David Sellars.
What book are you most proud of?
John James Audubon's four volume The Birds of America that I will be discussing in my conference presentation.
Thank you Philippa for taking the time to share a little of your bookbinding life with us.
If you have any questions you would like us to ask bookbinders on this blog let us know.