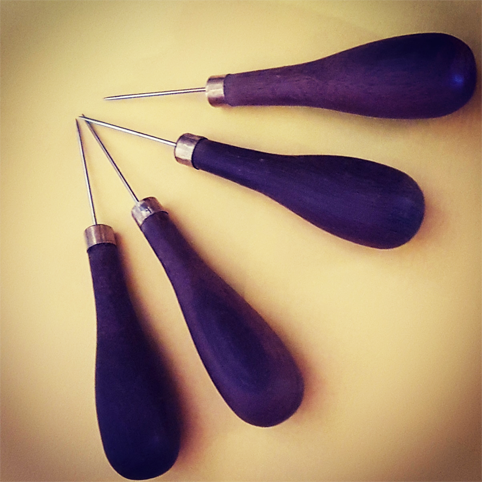 Well it has been a busy month and I have been a bit slow with the blog update. I am pleased to announce a few new items in store. We are now stocking Elephant paper, Efalin paper (coming in the next week or two), large handled awls, some new book cloths, cane toad skins and bank note paper.
First let me tell you about the Elephant paper. I was introduced to this paper during a "pop up display box" class with the wonderful Fred Pohlman in Canberra. I was blown away by how well this paper moulded around the steps in the box and how resilient it was. The paper has a nice marble look and is scratch, dirt, moisture, tear and rub-resistant, so you can imagine how perfect it is for things which get a lot of handling. It is really a very beginner friendly paper for all of those reasons too. Check it out and see what you think.
The Efalin paper is also a nice heavy-duty paper like the Elephant paper it is resistant to dirt and moisture, so you can wipe it down. The Efalin paper comes in some crazy bright colours which is fun and an option we did not have in store previously, so for those of you who like to bind brightly this is your chance! This paper can be used for packaging, binders, books etc.
We already stock some basic awls which are really economical for students and beginners but for those of you who are using your awl a lot you will be pleased to see our new awls. These are hand-made in a lovely hard wood and have a nice large handle which fits well into the hand and makes prolonged use a lot less painful. If you have any sort of difficulty with your hands these awls will be a godsend!
We have some new colours in stock in our Iris and Savanna cloths, so check them out. Remember if there is a particular colour you are after you can always send us an email. We have also listed our basalt record linen online; this cloth also comes in a few other colours by special order.
We have been receiving special orders from overseas customers for Cane Toad skins so we have decided to stock them permanently. We hope you like them as much as we do, the colours and textures are so great and make beautiful features as onlays and  inlays. The skins are so nice and thin that they do not require paring other than perhaps a scalpel bevel of the edges.
Finally, our bank note paper; sometimes you need a nice thin paper for spine or board lining and we now stock 50gsm bank note paper to meet your needs.
I hope you enjoy all of our lovely new stock. If you have any questions please send us and email.