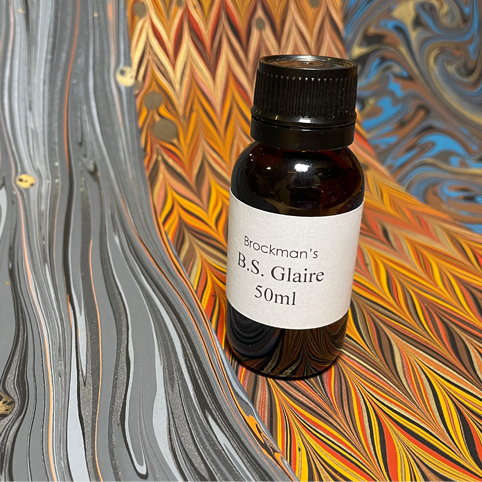 Well, what a time to be alive. I hope that you have been finding time to work on your bookbinding. We have been busy here even when we were locked down. Orders have been rushing in, most popular have been our kits, Long stitch binding, Japanese binding & of course the Deluxe Kit is a favourite paired with Kathy Abbott's book for a fantastic gift.
In other news, B.S. Glaire has been the "go to" pre-made glaire for fixing gold to leather for many years. Recently Brockman's bought B.S. Glaire from Russell's. Now Andersen's Bindery is the Australian/New Zealand agent for this wonderful product. This means that the price of a bottle of Glaire has gone down for you! Now is the time to get started on gold tooling.
Our new magnifying range has been very popular. Carson have been making high quality optical equipment for more than 30 years and the feed back on these quality items has been super. Take a peak here.
We now stock a range of incredible Crepaldi hand marbled papers. If you haven't seen Crepaldi's beautiful marbled papers take a look here or better still try and visit us because they really deserve to be seen up close. They sparkle and shimmer and look so good you'll want to wrap every project in them. We sell them in full size sheets (which are enormous) and half size sheets.
For years now people have borrowed my Double Bend Scissors and tried to keep them. We tried to find a supplier for so long we almost gave up but I am pleased to say we now have our own manufacturer of these fabulous scissors. I use mine every day and I really don't know how I managed without them. Other scissors just get in the way, these scissors allow you to get up nice and close, cut straight and have a good view of what you are cutting the whole time. Do yourself a favour and try them out, I am sure you will end up buying them for gifts for everyone you know.
We are planning some more Tips & Tricks to post here soon so don't forget to check in every now and again. Follow us on Facebook or Instagram to keep up to date with what's happening in the Bindery.